Creative Arts Therapy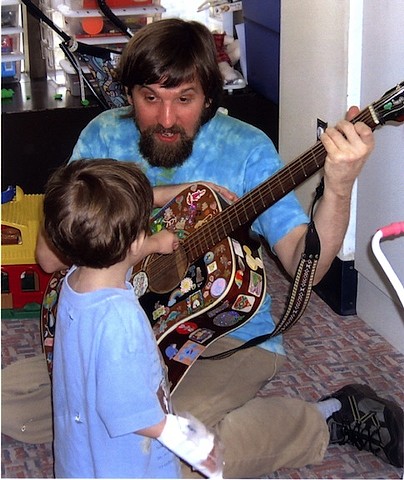 2018 saw 2,053 hospitalized children engaged, comforted, distracted, and just made plain happy through the music provided by enCourage Kids and a sticker-covered guitar.


Lliam Greguez is a creative arts therapist using music to help hospitalized children improve their physical, mental, and emotional well-being. He has done this with the support of enCourageKids Foundation since August 2002. Everyone calls him Bill the guitarist, a child friendlier title. Therapy can be subtle even when profound, and a small smile can be a big thing.
Lliam's specialty is learning songs in many styles and languages so that when he engages a child they can hear something familiar which creates rapport. He uses an acoustic guitar on which the children have put over 400 stickers. This makes the child a part of the instrument and the stickers become a useful tool for younger children to explore and to point at for the next song choice.
What I do is interact with patients with music as a conduit. It can be tailored to address the many needs of these children: distraction, sleep, alertness, pain management, something interesting to do, or focus. The child or teen gets involved in an aural, emotional, mental and sometimes physical activity that transports them at least partially into a pleasant universe. Many times the child is the one playing the guitar, other times I'm singing requests or in the background creating an atmosphere. Much of it brings forth smiles and laughter which the parents sometimes tell me has not been seen in days. I am fortunate to be part of and encourage the child's happiness.


Wednesday mornings on Hospital for Joint Diseases' Physical Therapy floor has been a very busy time for me these past few years.
The music has made a real difference in the therapists work, so I asked if a couple of them would relate their experience. Here is what two of them wrote:
I have come to know Mr. Bill while working as a pediatric physical therapist at NYU Hospital for Joint Diseases. I have witnessed first hand the positive impact Lliam has made on the individual treatment sessions for physical and occupational therapists. In addition to assisting with our treatment of children with various neurological and orthopedic conditions, Lliam enhances the child's learning experience through music and play therapy.
I have experienced many examples of this; however, one patient interaction sticks out in my mind. I treat a 3-year-old boy with severe cerebral palsy. He is unable to sit, stand or walk without support. He has difficulty using his arms and hands due to the amount of tone in his entire body. When Bill approaches this child, he begins to smile brighter. Through music, the child is able to relax his arms and hands from its previous fisted position, and strum the guitar. He is able to interact with his environment. He is able to show his mother that he is having fun. He is able to have fun!
I want to thank you from the bottom of my heart for the assistance you provide to me and my colleagues through the enCourage Kids Foundation.
Sincerely,
Meghan PT, DPT
Bill,
You have become such a great addition to our therapy sessions here at HJD. Every Wednesday we look forward to knowing you will come to provide us with wonderful music in a usually chaotic, noisy and unfortunately sometimes tear-filled gym. You have the ability to connect to every patient whether it's an infant your music soothes, a toddler who takes their first strum with an injured arm or a teen who appreciates hearing their favorite rap song while exercising. It is not only the patient who benefits but it is obvious the parents enjoy your presence and you put them at ease. Those who are fortunate enough to be scheduled on Wednesday mornings are truly lucky. Thank you for the music!
Lori, OTR/L


"Bill's Ability to comfort and sing to children and families is a great strength. His ability to learn various languages and then adapt familiar songs is very appreciated by patients and their families. In addition, many children have enjoyed learning how to play the guitar; his ability to teach guitar is excellent"
Patty
Director of Child Life


"L. Greguez is a very important figure in the lives of hospitalized children. His music is soothing for children in pain, rousing for children in the playrooms. He learns songs in many languages so that children from other countries can feel more at home. He makes up songs with children and encourages their musical exploration of his guitar. His twice-weekly rounds are always anticipated with great pleasure by children, families and staff."
Susan
Director of Child Life


"Through his music, Bill has been able to share song and laughter with all our culturally diverse populations, learning languages as the challenges arise. Bill's sense of commitment and concern has greatly contributed to the effectiveness of the Child Life Program."
Joan , MA CCLS
==================================================================================================
I started while getting a diploma in music performance with a private grant in a Long Island hospital in 1987 after quickly learning Twinkle Twinkle, and continued with other grants and involvement with Starlight / EnCourage Kids Children's foundation to provide therapeutic music in 8 hospitals. These days I'm at 5 in Manhattan and Brooklyn on a weekly basis working exclusively with pediatric patients, and at CHoNY spending a full day with those getting cancer treatment, both in outpatient clinic and inpatient bedside.